Fashion
5 Ways To Wear Opal Jewelry In Elegant Style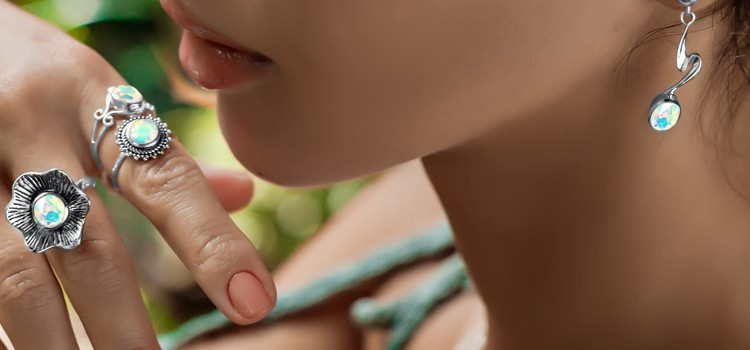 Wearing jewelry in various ways is something everyone loves, and it helps you feel more confident. Jewelry can be worn to express your feelings, emotions, and even professions, and it reflects your personality.
Jewelry styling in different ways keeps one in touch with creativity and fashion. We're giving you five fashion ideas on how to coordinate your solid Opal gemstone jewelry with your clothing on this blog!
Style Your Opal Jewelry
Have you ever cooked pizza, without adding pizza sauce, cheese, salt, veggies into it? Sounds funny right? But what if you did, Will you be able to taste that? this is what exactly happens when you wear an outfit without any accessories.
Wearing an outfit is not enough to look beautiful, adding accessories to it works as cheese on your pizza. They highlight the entire look and add a dash of sophistication, and class.
A good choice of jewelry is solid opal jewelry, and the style should be natural. Opal is the best choice for all men and women because it blends in with any color, age, or profession.
Fashion sense is something that draws everyone's attention; remember that self-confidence and a positive attitude will fix people's eyes on you. You can even look like a princess in an ordinary outfit if you have good styling skills.
If you don't know how to put various outfits together each time you wear the same items, it can get boring. Breaking free from a sartorial rut will be made easier with the correct accessories.
So, don't worry here are some tips below you can add spice to your boring outfit by adding OPAL jewelry to it.
Your Casual Outfit
Simple is distinctive, and when it comes to casual attire, such as jeans and t-shirts, simple accessories go best with it. The ideal option for making your outfit look more elegant and less difficult is simple jewelry, such as a necklace or pair of earrings.
Choose the lowest size of jewelry so that it can fit on your face if you are using makeup such as eyeliner, blusher, or lipstick to avoid adding more colours to your skin tone.
Your next choice to go with your regular attire could be our Solid Crystal Opal Earrings. These lovely multi-colored Crystal Opal stud earrings in yellow gold are simple and elegant.
Customizing your Opal jewelry is another way to wear it. Create unique jewelry with opal gemstones that enhances every clothing you wear. Jewelry that is unique and attractive always enriches your look.
Wearing Opal With Formal Outfits
When it comes to wearing suits, wedding dresses and even evening dresses for special occasions, caring accessories with it is must .
This is especially true for chains, a simple pendant is often the best choice. You don't want the dress to be less heavier than the necklace, so you should choose something minimal in size but looks elegant.
IF you wish to wear a heavy necklace choose a balanced outfit for it. For example, if you have an outfit with lots of bright patterns, keep the decorations simple to avoid competing accessories.
If you find yourself choosing too big or flashy jewelry for your suit because you love it, experiment with different outfits! They are usually not made of gems or metals.
Style your outfits with precious gemstone with low price tag . Our Solid Opal necklaces are best choice for you as it will look decent and suits with every formal attire you wear.
Opal Watches Adding Elegance To Your Outfit
Watches are something which is never outdated , classic and smartwatches have been always into fashion .
Watch suits with every attire making it more beautiful and adorable .
They are evergreen from sleek watch to trendy sport watch all these add sophistication to your outfit
A black watch will look elegant with your power suit, will command attention the boardroom .
Your next fantastic buy will be a Doublet Opal Face Watch! This ladies' watch, which is made of rose gold plating and has a mesh band, is also known as the "Alexander Dauvin Opal Face Watch." Additionally, it is water-resistant up to 3 metres and comes with a two-year manufacturer's warranty.
Opal Rings
Opal rings come in different varieties, colors, and patterns. Searching for an engagement ring or ring which suits all your outfits says from formal to casual opal gemstone ring are the best choice for you.
Colorful gemstones are mixed with Opal rings making them more astonishing jewelry. Opal rings come in a variety of designs and patterns, perfectly made for different attire you wear.
Opal rings should be worn in the right finger of the right hand so that you can get the benefit of its healing energy as well.
One example is the Rainbow halo ring with a Dez Opal- it draws out every color from the opal while also bringing out the opal's more muted tones because of the vibrant colors all around it. In general, you'll see the rainbow halo.
This ring is the perfect match for your party outfit .
Opal Unique Lockets
Nothing is more delightful than preserving memories in a special locket and wearing it frequently. Lockets are the perfect option for this because everyone loves to keep their beloved close to them or the memories of them.
The sweetest present or treasure anybody could give to their loved ones is a book locket with an opal gemstone fitted inside of it. A book locket with an opal gemstone fit into it is the best gift or treasure anyone could give to their loved ones.
One example of that is The Cathedral Book Locket by Sofia Zakia (about 50,602 THB) is a unique and endearing present that your loved ones will cherish. This exquisitely handcrafted 14K gold locket features an Australian opal set with diamonds and may be personalized both inside and out. Make up your own personal fairy tale.